Bulk Texting Upload File Formats
Message lists can be uploaded to the Bulk Messaging page from either Excel or CSV (Comma Separated Values) files.
Sample Files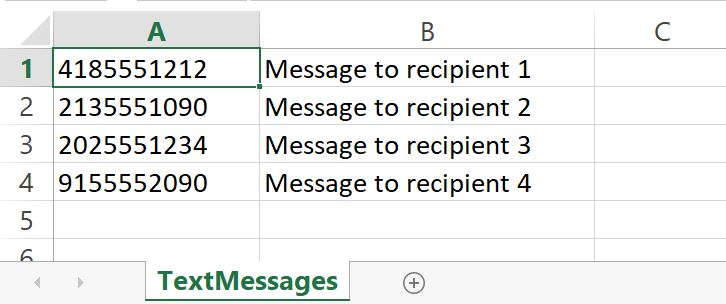 Excel (.XLSX or .XLS)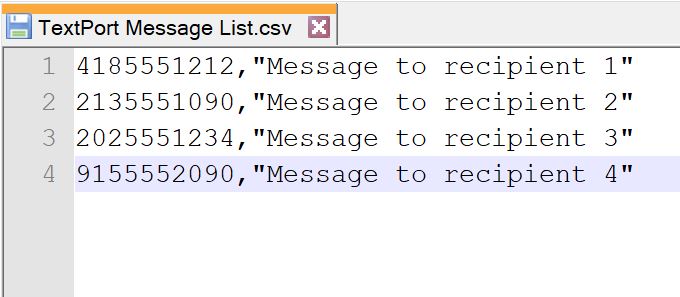 CSV with quoted message (recommended)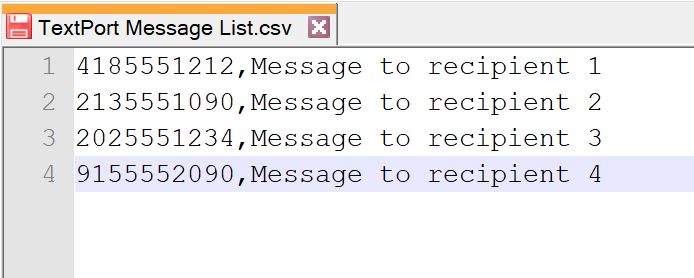 Excel with non-quoted message (Only if message has no commas)
Formatting
Files should conform to the following guidelines:
Two Columns

First Column: Recipient's number
Second Column: Text message

No column headers.
CSV Files

Values can be quoted or unquoted.
If your message contains commas, enclose the message in quotes, since a CSV file uses a comma separator.
File extension can be either .txt or .csv

Excel Files

Use a single worksheet/tab.
No header row.

Number Format

Any commonly-used number formatting can be submitted. The following are all acceptable:

2135551212, 12135551212, (213)555-1212, 1 (213)555-1212, 213-555-1212, 213.555.1212
File Validation
The file will validated to check for missing or invalid numbers, or blank messages. If all data is accurate the "Send" button will be enabled and the messages can be submitted.
Limits
There is no limit to the number of messages you can submit in a single batch, however we recommend you break uploads up into batches of 250 messages or fewer per submission. This makes error correction easier.