5 Ways to Send Text Messages Online
by TextPort
---
Posted: February 16, 2020
---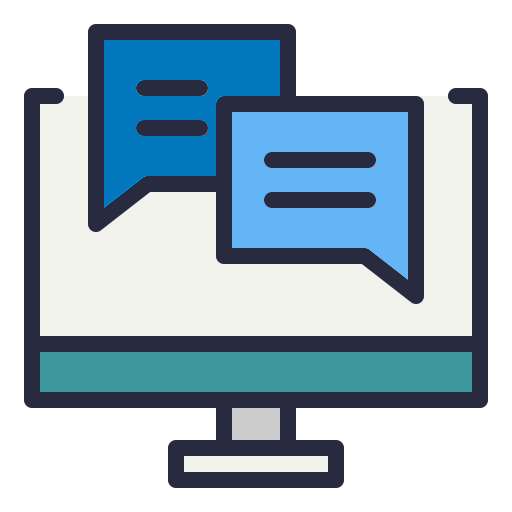 ---
Sending and receiving text messages is generally associated with mobile devices, but there are times when it would be preferable to send text messages from a computer or send text messages online, without having to use a phone.
There are various ways to send a text from your computer. Each has its advantages and drawbacks. In this article we'll explore five commonly-used techniques.
1. Email to SMS Gateway
Most major mobile providers offer an Email to SMS gateway. These gateways allow anyone to send a text from their computer using email. Let's assume you'd like to send a text to a subscriber on the Verizon network, and that subscribers mobile number is 505-555-1212. You can send an email to 5055551212@vtext.com. The provider (Verizon in this case) will take that email and forward it to the mobile subscriber's mobile device. If the subscriber sends a reply, it will be sent back to your email. While this solution is essentially a hybrid of email and SMS, it does generally work, assuming the provider offers an email gateway. In recent years some cellular providers have decommissioned their email to SMS gateways due to them being exploited to disseminate spam texts. One drawback of this solution is you must know what provider your intended recipient uses for their mobile service. Considering most of us have no idea what mobile providers our friends' use, it's not an ideal solution. Furthermore, the familiar chat interface displaying the chain of messages is not possible when using this option. One advantage is Email to SMS gateways are at least free!
Here's a list of Email to SMS gateways for the major U.S. providers:
Provider
Addresses
AT&T
number@txt.att.net (SMS)
number@mms.att.net (MMS)
Boost Mobile
number@smsmyboostmobile (SMS)
number@myboostmobile.com (MMS)
AT&T
number@sms.cricketwireless (SMS)
number@mms.att.net (MMS)
Cricket
number@sms.cricketwireless.net (SMS)
number@mms.cricketwireless.net (MMS)
Sprint
number@messaging.sprintpcs.com (SMS)
number@pm.sprint.com (MMS)
T-Mobile
number@tmomail.net (SMS and MMS)
Verizon
number@vtext.com (SMS)
number@vzwpix.com (MMS)
A complete list of U.S. and International gateway addresses can be found at SMSEmailGateway.com
2. Mobile Provider Websites
Most mobile providers offer a web page which allow you to enter the mobile number of a subscriber on their network, then type and send a message. It works fine and it's free, but there are some drawbacks. The user interface is limited, and it's difficult to receive replies. While some allow picture messaging (MMS), most do not. Like the email to SMS gateway, you do need to know which mobile provider your intended recipient uses.
3. Skype
You can send and receive texts from your computer if you have a Skype account and have purchased a Skype number. You will also need to purchase Skype credit because this is not offered as a free service. With the current version of Skype, you can select Tools > Send SMS Message to open the SMS feature. Enter the number of the recipient that you wish to send your message to, type your message, then click Send. The price will be determine based upon the length of you text message. Text messages are comprised of 160-character segments. A message of 160 characters or less will cost the base rate, but 161 characters or more will cost twice as much. Be sure to check the cost of sending the message before clicking send. One advantage of using Skype is you don't need to know who your recipient's carrier is.
4. Google Voice
You can send and receive texts from your computer using Google Voice. You have the option of choosing a brand new number, or using your own mobile number. This service works nicely, although it can be expensive. Google does allow you to send up to 10 messages per month for free, but anything beyond that will cost $55 per month for unlimited texting.
5. TextPort
TextPort has evaluated the various strengths and weaknesses of the preceding methods, and built a service to provide an affordable and easy-to-use way to send text messages online. TextPort offers all of the following features:
Send texts
2. Receive texts
3. Phone-like chat interface
MMS (Picture) messaging
Send text messages in bulk
Free fully-functioning trial
Affordable, pay-as-you go pricing
As noted, some of the other methods lack a user interface. This makes reading and managing your texts difficult. TextPort's chat-like interface is designed to emulate that of a mobile phone. This makes it easy to send, receive, and manage your texts. It's also easy to conduct multiple conversations at once. TextPort runs on any browser, and the site is verified as mobile-friendly, so you can exchange messages from any device or computer that runs a browser. There's no software to install or apps to download. TextPort offers a fully-functional free trial, so you can
send and receive text messages for free
for 15 days. The trial also offers access to TextPort's other features, so you can try before you buy. When you set up an account you can choose your own
virtual phone number
. This will be the number that all tests will be sent from and received to.
TextPort offers advanced services like bulk texting and an SMS API. Bulk texting (or Bulk SMS) is ideal for business communications, especially marketing. TextPort Bulk SMS makes it simple to upload a list of numbers and messages from an Excel or CSV file, then send them to multiple recipients at once. Bulk SMS not an available feature on a standard mobile phones, so online texting is an ideal method of sending bulk texts.
For developers, TextPort offers an SMS API which makes it easy to integrate the sending and receiving of text messages into you own local application. Anyone familiar with REST APIs will find the TextPort SMS API straight-forward to set-up and use.
---